15 Most Anticipated Albums Of 2012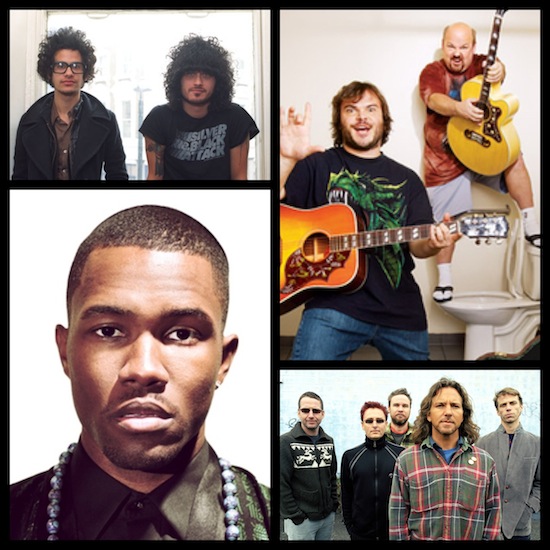 Alright guys and gals, here's our list of most anticipated albums of 2012. Check it out below and let us know what you think in the comments!


15) Phoenix (Title TBA) – Phoenix has begun working on a new experimental album which is the follow up album to Wolfgang Amadeus Phoenix. The French pop band has been working with an Australian percussion group and plan to infuse a futuristic sound for their new album.

14) Grizzly Bear (Title TBA) – The Brooklyn based indie band is expected to release their fourth studio album sometime in 2012. The band encompasses many genres including folk, indie, pop, and rock so this album should infuse all of those genres into one interesting experimental album.

13) The Smashing Pumpkins (Oceania) - This is the bands 9nth studio album which was set to be released back in September, but the release date has been pushed to sometime in early 2012. Oceania is part of The Smashing Pumpkins ongoing conceptual album Teagarden.

12) Frank Ocean  (Title TBA) – Odd Future's Frank Ocean debut mixtape Nostaligia, Ultra, gave us a glimpse of whats to come in the future with this talented artist. Frank has the unique ability to conceptualize his music and capture our attention by layering stories within his music.

11) Mumford And Sons (Title TBA) – The London based folk band has enojoyed its claim to fame with their debut album "Sigh No More". Mumford and Sons are recording their follow up album which is expected to be released in February.

10) Muse (Title TBA) - Muse will be releasing their 6th studio recorded album sometime this year. The album will be produced and recorded solely in London. The band has mentioned that they have a lot of material written for the album and are excited with the direction that their music is headed.

9) Tenacious D (Rise of the  Phoenix) - The dynamic duo have been working on their third album titled Rise Of The Phoenix which will be released in 2012. The last album the duo released was in 2006 entitled the Pick of Destiny which was also the motion pictures soundtrack. The Pick of Destiny album was not critically acclaimed, so the theme to this album is the rise of the D through the ashes.

8) Cursive (I Am Gemini) – Cursive will be releasing thier 7th recorded album called I am Gemini which is due out in stores on february 21st. The Nebraska based band already has a limited amount of tour dates lined up to promote the new album.

7) Tyler, the Creator (Wolf) - Wolf will be the third album from  Tyler the creator who is the leader of the group Odd Future.  The album is scheduled to come out in May 2012. Wolf will continue the therapy sessions Tyler is attending with fictional therapist Dr. TC.

6) Pearl Jam (Title TBA) – Pearl Jam fresh off their 20th anniversary are expected to release their 10th studio album in early 2012. The Seattle based band has come a long way since ruling the grunge era. This  album is very significant for the band since its the bands 10th album, and the ironic thing is their first album was called Ten.

5) Black Sabbath (Title TBA) - The original members of  Black Sabbath, have agreed the reunite and are currently working on material for thier new album.  This will be the first time since 1978 that Ozzy Osbourne will be recording an album with his old bandmates. The album is being produced by Rick Rubin, so I anticipate this to be a great album.

4) The Beach Boys (Title TBA) - The Beach Boys have reunited after a 15 year hiatus ! After more than a decade of turmoil, the surf band has agreed to consolidate and have been writing songs for their new album.

3) The Mars Volta (In Absentia) – The Mars Volta are scheduled to release their new album in may 2012. Frontman Cedric Bixler-Zavala recently stated on his YouTube channel "New volta almost done. vocals done. just trying rebutcher it and add bass and finish guitar. in studio until this week then on to mexico to add more quantum entanglement to it. the sonogram of the little beast is looking very good."

2) Jay-Z (Title TBA) – Jay-Z is currently working on his 12th studio recorded album. He already has 2 songs completed and states that he already know what direction he is headed with this album. Jay-Z is fresh off with his collaborated album with fellow rapper Kanye west and there are rumors that the duo are planning on making Watch The Throne 2.

1) Soundgarden (Title TBA) - After being apart for 16 years, Soundgarden the seattle based grunge band has confirmed that they will be releasing a new album in the Spring of 2012. The band split up in 1997 and frontman chris cornell went on to have a great solo career and had a lot of success with his former band Audioslave. The band is excited about reuniting "Over the past few months, we've been busy jamming, writing and hanging out together – exploring the creative aspect of being Soundgarden. It feels great. We have some cool new songs that we are going to record very soon. Thank you for all of the support! Loudest Love, Ben, Chris, Kim and Matt"
Stay tuned for updates on these, and other anticipated albums of 2012.
Related posts: