Interview Magazine: Scarlett Johansson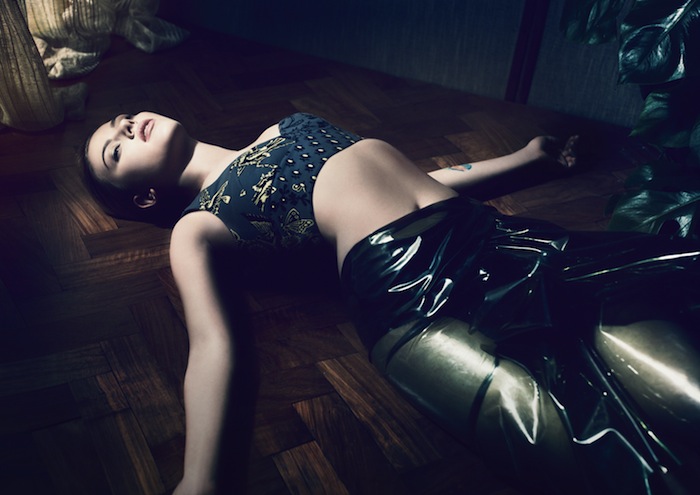 With the impending release if Scarlett Johansson's newest film We Bought A Zoo, Arianna Huffington recently caught up with the 27-year-old Johansson on the set of yet another film, Jonathan Glazer's Under the Skin, in Glasgow, Scotland. Here are some highlights of the the interview.
How are you?
I'm good. I'm in dry, sunny Glasgow right now, enjoying the tropical weather. [laughs] I'm doing a film here called Under the Skin. It's a project that I've been talking about with Jonathan [Glazer] for a few years now—I think he's actually been working on it, in different incarnations, for about eight or nine years.
What is it about?
It's hard to give a kind of warm-up line for the story because it's almost like giving the plotline of a Bergman film, but I'm playing a character called Laura, who is an it that becomes a she . . .That's what the story's about—it's about that transformation . . . It basically has no written dialogue, and I don't think it's really character-driven. Jon is an incredible visionary, and in the place I'm in right now, it feels really fresh. It might be an impossible project . . . [laughs] We'll see.
How is your brother, Hunter?
He's great. He's been working on Scott Stringer's campaign for a couple of months now, so he's super busy with that. He's really happy to be working with Scott—and, you know, the family's proud.
I remember he promised to blog for us. I'll invite him into the newsroom to meet our editors.
He'd absolutely love that. He always has so much fun when we're out together. I'm already planning what I'm going to wear to the next White House Correspondents' dinner.
I loved being at the dinner with you, watching all of those senators from both sides lining up to meet you.
Next time I go I'm going to find Anderson Cooper's table and camp out there. My brother was totally geeked-out by Katie Couric. I think he followed her around the entire night. I was chasing after him, and I turned around, and I had a bunch of Republican senators chasing after me. [laughs] But honestly I think it's the best party in town. I'd rather go to the White House Correspondents' dinner than any awards show.
Read the rest of the interview here.
[Source: Interview Magazine]
Related posts: