Odd Future with Special Guests Frank Ocean and The Game Perform at The Palladium in Hollywood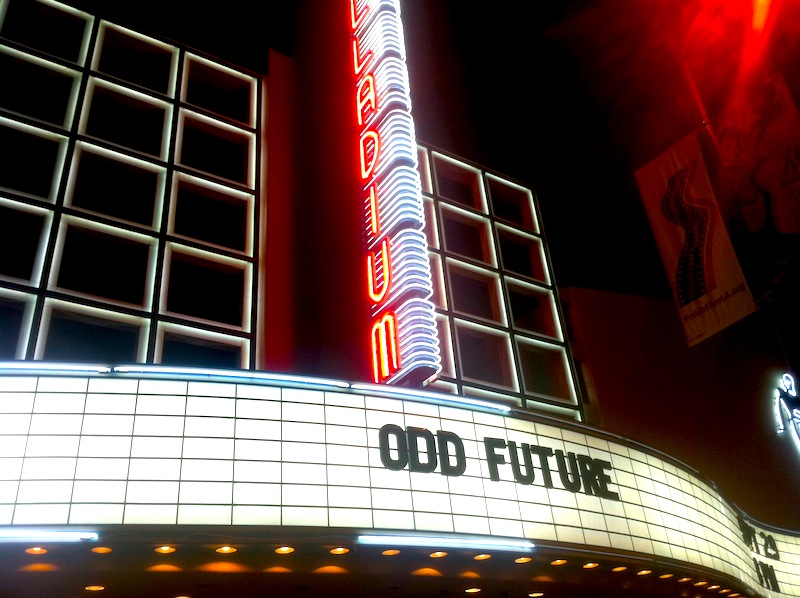 Tonight Odd Future performed their second show of the 2011 Golf Wang Tour in their hometown of Los Angeles. The sold out show featured the usual Wolf Gang crew including Tyler, The Creator, Hodgy Beats, Domo Genesis, Left Brain, Mike G, Syd, Taco, and Jasper The Dolphin. The show also had very special appearances by The Game who performed Martians vs. Goblins with Tyler, and Frank Ocean who serenaded us with She and Novacane. The Palladium was jam packed with sweaty, Supreme repping skaters all around moshing, crowd surfing and dancing. OF performed most of their biggest tracks including Radicals, Yonkers, Transylvania, and Tron Cat but for me personally I was very sad when they didn't perform Orange Juice which I am sure was a sign of respect to Earl Sweatshirt.
All in all it was definitely not a how to be missed and I can definitely mark it as an unforgettable experience that I will never have anywhere else. Thank you to Odd Future for putting on an excellent show and for making it a very special night.
††† OFWGKTA ▲▲▲ FREE EARL
Very RARE appearance by Young Nigga performing his siiiiiicccckkkkk hit Come Through Looking Clean. Check it below.
[youtube ljTDKJSjlGs nolink]
Related posts: