Is That Sculpture Moving?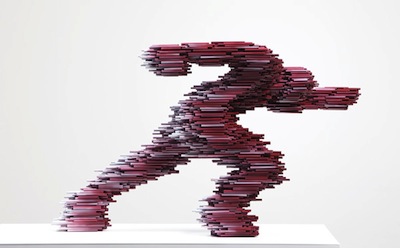 Korean artist Dang-Bong Kang has produced some mind bending sculptures. The essence of motion and movement is the technique he is displaying. The sculputers are produced by multiple pieces of PVC pipe infused with paint which creates the appearance and motion of movement.
According to My Modern Met -
The figures in Kang's sculptures are an exploration of human relationships and communication. According to Kang, holes ignite curiosity within people because, regardless of age or gender, one always wonders what is on the other side of them. He believes that we should be just as curious about what is on another person's mind. In his opinion, the rise of social networks has decreased the amount of concrete personal conversation.
The holes also represent the void within ourselves that we helplessly try to fill. As he explains, "When we care too much about how we are seen through other people's eyes rather than focusing on who we really are, we start to feel a sense of self-betrayal. The existential void may lead us to cry out, with the weight of depression caused by this in-authenticity."
[Source: My Modern Met]
No related posts.